6 Ways to Ask your Friends to Be your Bridesmaids
After receiving the ring, your best friends come to mind; those amazing women you need to have close to you on your big day, because without them you'd be lost. Their happiness is contagious, they give you strength when you need it most, and they say the words you need to hear to steady your nerves and remain calm at all times. But, have you thought about how you're going to ask them to be your bridesmaids?
Remember that they will be your support during the wedding planning and the ceremony, so we thought of 6 special ways to show them how much they mean to you.
Gift box
The box' design is up to you. Inside you can place a letter, photos of each of them during a special moment, sweets, a small bottle of champagne or rosé wine. Another option is to have a theme, such as everything necessary for a relaxing weekend at home: a candle in their favorite scent, bath salts, body oil, facial masque and nail polish.
Personalized jewelry
Accessories are always the best. Necklaces with their names or initials can be a great idea, or they can have a special detail in the same color or with each one's favorite color. They won't be able to resist such a special gift, and accompanying it with a special phrase adds the perfect touch!

Card
Plan a dinner at your house and invite each of your bridesmaids-to-be. On each plate you can put a card and ask that they all open them at the same time.
After the surprise, you can prepare a toast, explaining why you chose each one to be your bridesmaid and why they will be part of such a magical day.
Puzzles
Give each of your bridesmaids a piece of a puzzle, which when put together, creates a photo of all of them with the question.
Dessert baked by you
A cake or any dessert is a delicious gift. You can present them in small containers and decorate them carefully by hand, with a special message for each of them.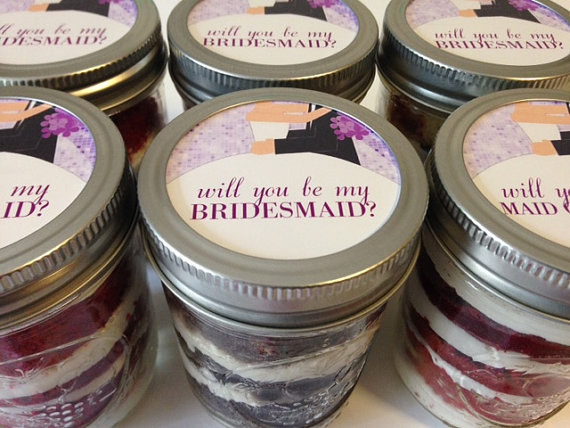 Make a gift yourself
There are many sites on the internet with step by step instructions to help you make something they will love. This is the perfect option for brides who like crafting. I researched a little, and my favorite is definitely the one here below.
You really don't need a large gift to show them how special they are to you. A knowing look and warm embrace are enough to help you get the message across. After giving them this gift, the only thing they will be able to say is, "Yes, I want to be your bridesmaid."